Company Name: Volk Optical
Company Description: Volk Optical is an innovator in the design and manufacture of diagnostic, therapeutic, and surgical ophthalmic lenses, portable imaging devices, surgical systems, and accessories. The company is based in Mentor, Ohio, USA, and has representatives and distributors around the world.
Author: Matt Marzullo, Vice President of Global Sales, Volk Optical 
The vision care field is continually evolving, with new technology and techniques being pioneered at a fantastic pace. Continuing education is required of optometrists to keep up with these innovations; why shouldn't we as industry partners engage in ongoing training in order to serve our ODs better? 
Volk has a comprehensive in-house training program for employees. With slit lamps, BIOs, lenses and model eyes, we can get a really great understanding of basic eye anatomy. However, static model eyes, 2D textbooks and videos just can't effectively simulate the tremendous variety of real patients our ODs see in their practices. In an effort to see what our customers actually see, we were fortunate to partner with Pennsylvania College of Optometry (PCO) at Salus University. 
Last fall, our Volk sales team, product managers, engineers, and new employees visited PCO's campus in Elkins Park, PA. as part of our Global Sales Training. Melissa E. Trego, OD, PhD, Dean of the Pennsylvania College of Optometry, orchestrated a two-day educational program for our team that included classroom lectures and hands-on time in the school's state-of-the-art virtual reality and skills labs. 
On day one, Dr. Trego, Rachel Brackley, OD, FAAO, Alissa Coyne, OD, FAAO, and Stephanie Leburg, OD, presented lectures on the anatomy of the eye and various diseases in all stages of progression. Having a deeper understanding of the conditions optometrists are diagnosing and treating is invaluable not only for our sales staff to help customers select the right product to meet their needs, but also for our product managers and engineers as we develop new products to help improve patient care. 
Our team was treated to a comprehensive lesson on glaucoma–what it is, the different types, how it's diagnosed, and what Volk products each doctor uses. It was fascinating to hear from each doctor which lens they preferred and the reasoning behind it – each liked something different, often for different reasons to suit their personal preferences. Lectures also covered diabetic retinopathy and AMD. The common thread that ran through all the lectures was what an important role our products play in helping to save people's sight. It was a great reminder of how our products directly improve lives and why we all love what we do. 
The second day was a hands-on day in PCO's newly renovated Clinical Procedures Lab; it was time to put our classroom education to the test! The world class lab has 34 fully-equipped optometric bays, video/camera slit lamps for demonstration, and mounted live feed video cameras for integrated instruction. Our team experienced two different interactive sessions, one in the virtual reality lab, and a second in exam lanes with actual subjects (PCO students graciously and generously volunteered to sit in as our 'patients'). 
In the VR lab, we were equipped with a virtual BIO headset, virtual lens, and virtual patient. In one exercise, we searched for various shapes hidden in different parts of the eye, another offered the
opportunity to diagnose pathologies. The simulated real-life experience helped us build confidence in our BIO exam skills. 
In the exam lanes, each Volk employee was paired up with a PCO optometry student or faculty member and given one-on-one instruction. We practiced our slit lamp exam techniques with a range of lens types from a 90D, to a Digital Wide Field® lens, to the 3-Mirror Gonio. Having the opportunity to see how each lens performs on real-life subjects, where individual anatomy can vary greatly, was dramatically more instructional than studying a diagram or model eye. To know the definition of an open angle versus a closed angle is one thing, to see both with our own eyes took our understanding to the next level. We came away with a new appreciation of what doctors are trying to view as they administer exams and diagnose various disease states. 
Our professional education went even deeper when we were taught the proper techniques of applying a contact (gonio) lens at the slit lamp. For those who were up to the challenge, instruction was also given on how to perform a BIO exam. 
For me as a relatively new Volk employee, I found this weekend to be invaluable. In speaking to my Volk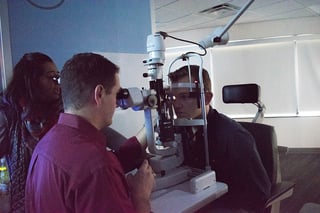 colleagues, even those who have been with the company for years felt they were seeing the products from a whole new perspective. 
As Ezequiel Lukin, our veteran Global Sales Manager, explained "You can understand the specifications of the different lenses and know logically that a 100° field of view is wider than a 60° field of view or that a 1.0x magnification is less than a 1.3x. Using the lenses on real subjects let me experience the nuanced differences and understand from the doctor's point of view what can be visualized through the different lenses. From listening to the faculty, lens selection is very user-dependent and not one size fits all. Factors beyond technical specs – ease of handling, exam time, contact versus non-contact, etc. – all play a role in preference. Now I'm even better equipped to ask the right questions and understand what each doctor might need in a lens." 
Lena Zhuk, Regional Sales Representative, agreed, "I feel like I have a more personal connection with the doctors now that I've experienced what they actually see in their offices every day. The virtual lab was also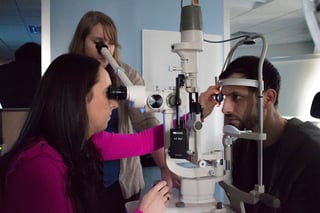 a really nice opportunity to practice before working on an actual subject. At the end of the training, I have a much better understanding of how to guide the doctor to the best product for them." 
For Sales Manager Paul Koopman, it was the detailed training in anatomy that struck him. "The lectures went into so much detail of the pathology of various disease states and what our lenses were used for. The hands-on was amazing to then literally see into the eye and see all the structures we'd learned about in the classroom. All of the insight gained will be great to take back to distributors and help in training." 
Dan Nelson, our Senior Product Manager, found the training to be valuable to the work he does on Volk's software and imaging products. "The experience of actually looking into a real eye, getting past the pupil into the retina really gave me a feel for just how complex the eye is. I got to see the lens, see the anterior segment, and look around the retina. Experiencing what can be seen with our current imaging products naturally got me thinking about what we can do to expand and improve those capabilities and see even more anatomy at once. The visit really brought home the importance of what we do and why we keep striving to develop new products." 
The students and faculty at PCO provided a highly educational weekend and everyone we met was extremely gracious and patient. We feel so fortunate that we could experience this small glimpse into the intensive education and training future ODs undergo. Every Volk team member that attended was left with a new appreciation of the eye and the practice of optometry.
This blog is part of the ASCO corporate contributor blog series. For more information about the blog series, please contact Christine Armstrong, Director of Development at [email protected].