Interest in a health professions career such as optometry can spring from a variety of motivations, but a desire to help people is a common inspiration. Sight is such a precious human sense, the care optometrists provide is of immense value to the patients they serve. As shown in the international Barometer of Global Eye Health survey, most people would rather lose a limb or 10 years of their life than lose their vision. The care optometrists provide can be life-changing, and the following stories are just a few examples of how. The stories highlight some of the many different areas in which optometrists can specialize, the expertise available at private practices as well as in the eyecare centers of schools and colleges of optometry, and the dedication optometrists apply to delivering the solutions their patients need.
Read Part 1 below, and stay tuned to this space for Part 2.
********** 
One of several people at the local homeless shelter who agreed to a free eye exam, "Joe" didn't really have any symptoms to report. He sat down with The Ohio State University College of Optometry faculty member Joan Nerderman, RN, OD, and a student extern who were at the shelter as part of the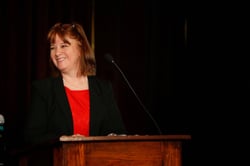 college's ongoing community outreach program. He asked for a pair of sunglasses, explaining that he was a little sensitive to light, which wasn't an uncommon request. He answered the questions he was asked, revealing that he was unemployed, abused alcohol, and had a "dispute" with his wife, who had kicked him out of the house where they had lived with their young daughter.
Given Joe's lack of eyesight-related complaints, Dr. Nerderman figured all he might need would be a new pair of bifocals. His were clearly old and worn out. But, as the exam proceeded she noted that his vision wasn't correcting to 20/20. To investigate why that might be, Dr. Nerderman ordered a test in which an instrument called a perimeter measures peripheral vision. The test revealed some loss of peripheral vision in both eyes. Knowing that the particular pattern of deficit the test was showing is associated with a pituitary tumor in the brain, Dr. Nerderman referred Joe to a neuro-ophthalmologist who confirmed it. Surgery was scheduled to remove the tumor. While it's rare for pituitary tumors to metastasize, they can grow and expand into others parts of the brain.
Joe's family came back together to support him during surgery, which was a success. Afterwards, assuming it was the tumor that had caused his previous undesirable and violent behavior, the family eagerly gave Joe a second chance. Dr. Nerderman thinks it's unlikely that the tumor was affecting behavior because it was small and only located in the pituitary gland. "No matter," she says, "let's give him the benefit of the doubt and say there's a potential for that."
After surgery, Joe regained full peripheral vision, which isn't always the case with a pituitary tumor, Dr. Nerderman says. He also moved back in with his wife and daughter. He got a job and was no longer abusing alcohol. "Sometimes patients we see at the shelter haven't had any medical care for a long time," Dr. Nerderman points out. "Sadly, that means their problems have often advanced to the point where they're not fixable. It wasn't too late for Joe. He got everything back." 
********** 
Not much, it seemed, was able to keep little "Tate" from being his bright and active 6-year-old self. Not Goldenhar syndrome, the rare condition that leads to underdeveloped structures like the nose, lips,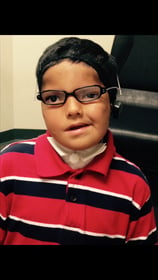 soft palate, jaw and ears. And not Duane's retraction syndrome or the palsy that make it difficult for him to close his right eye or move either eye outward normally. Despite all of this, with the help of cochlear implants for hearing, Tate was communicating well and going about his life. By the time he was 7, however, some vision-related issues began to threaten his well-being. His difficulty with eye movement as well as some farsightedness were making it difficult to see up close and holding him back in his ability to read. Tate needed glasses to correct the farsightedness, but he doesn't have ears to hold them up.
Carolyn Carman, OD, clinical professor and director of the Center for Sight Enhancement at the University of Houston's University Eye Institute, had just the solution. She prescribed Tate glasses and fit him with a specially adapted frame from Nebraska-based company Spokiz. The frame, first designed by Spokiz as a way to keep glasses from slipping off, is also a great fit for Tate's special need. Rather than the typical arms, Tate's glasses frame has one band that goes around the back of the head and another band that fits over the top of the head and connects to the lower band on each side. "He was excited to be able to pick the frame he wanted and has been happy to wear the glasses," Dr. Carman says. "His personality is shining even brighter as he continues to learn, keep up with his classmates, and have fun."
In addition to the specially designed glasses, Tate received vision rehabilitation therapy at the Center for Sight Enhancement. During his sessions he learned strategies for reading and using his eyes as effectively as possible and for keeping his right eye moist, comfortable and protected. "He's now in third grade and doing very well," Dr. Carman notes. "His improved vision with the adapted eyewear, dry eye therapy and vision rehabilitation therapy has made a big difference in allowing him to see better, do well in school, and be a happy student." As for Dr. Carman, "Helping people like Tate see better never gets old," she says. "I still look forward to clinic and feel blessed to have found a career that allows me to make a positive impact on the lives of people of all ages." 
********** 
For her first visit to the University Eye Center of the State University of New York College of Optometry (SUNY), "Jane" wasn't able to come alone. She had to be accompanied by her daughter. She couldn't be in the room with more than a few people at a time. The lights had to be off. "She was clearly extremely uncomfortable," says Katherine Lai, OD, a resident and assistant clinical instructor at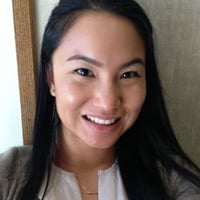 SUNY, who is part of the team that has been working with Jane. As Dr. Lai explains, Jane, a 56-year-old artist, had been diagnosed with a traumatic brain injury after she took a disastrous fall down an open sidewalk grate and down some stairs while walking in the city. As part of her medical care, she was referred to SUNY for neuro-optometric rehabilitation. During her initial visits, Jane told the SUNY optometrists how she was struggling to do just about everything every day. Her problems included having trouble reading, feeling overwhelmed in crowded environments and feeling unsteady on her feet.
The symptoms Jane was experiencing are common among the patients who receive neuro-optometric rehabilitation therapy at SUNY. In their sessions, patients work on stabilizing eye movements and ensuring the eyes are working together adequately. They also progress through therapy procedures designed to stabilize their visual vestibular system and enhance visual-motor coordination to make efficient eye movements.
When Jane was at SUNY this fall for a therapy session, she was feeling like a new person. "She never thought she would get to the place she is now," Dr. Lai says. Jane can do just about anything she wants again. She can walk around on her own and no longer feels overwhelmed in crowded environments. She has gotten back into some art projects and is gaining confidence that soon she'll be able to drive and resume painting the large murals in restaurants and on city walls that were her livelihood. "She's so much happier and very, very thankful," Dr. Lai says. "I see these types of cases every week, and often the patients are still symptomatic after having worked with vestibular therapy or occupational therapy. Practitioners in other fields sometimes don't know that many symptoms are vision-related. What we do in neuro-optometric rehabilitation is unique and is even different than traditional vision therapy. For me, this is a case that really reinforces how appreciative patients are of how we can help them." 
********** 
When people hear Jacob Green tell the story of his long, arduous journey of recovery from a traumatic brain injury (TBI), they feel inspired. Jacob, too, has drawn hope and optimism from his experience, in particular when he thinks about the optometrists and researchers who helped him get his life
back. At the Eye Care Institute at Western University of Health Sciences, Valerie Quan, OD, FAAO, used her expertise in vision and neuroscience, along with persistence, to solve a problem Jacob had suffered with for a long time.
But let's back up a bit. Jacob's TBI occurred when he was a college freshman. Witnessing a man attacking two subway agents, he selflessly intervened. He tried to distract the assailant, who then hit Jacob repeatedly in the head. The resulting brain injury caused an overwhelming number of issues, including extreme sensitivity to noise and light, memory problems, vision impairment, spatial processing deficits, frequent vomiting and debilitating headaches.
Jacob first sought help at the Western University Eye Care Institute after two and a half years of full-time rehabilitation, all types of therapy with all types of professionals. After so much time and hard work, he was able to return to school, earn two degrees and hold down a job, part-time at first. With a longstanding interest in public service, eventually he became assistant city manager of Ontario, Calif. Unfortunately he was still suffering with up to five migraine headaches every week, which were caused by the fluorescent lighting in the office building. As he recounts when he shares his story, the pain was making it hard to work and to be an attentive father and husband, and "Every single night I was incapacitated. I was at the ER a lot."   
At the Eye Care Institute, one of the remedies Dr. Quan and Jacob tried were tinted lenses, which are a potential solution for the light sensitivity that was causing his migraines, but they didn't help. Not willing to stop there, Dr. Quan kept an open mind about potential next steps. She knew that another researcher at the university, Chris Chase, PhD, FAAO, had an instrument called a colorimeter in his lab, and she had read an article about its use elsewhere in TBI. She enlisted Dr. Chase and another expert at the university, Chunming Liu, OD, MD, PhD, to help with Jacob's case.
The team used the colorimeter to take Jacob through what's called colored light preference testing. Working through the color spectrum, the instrument adjusts hue, saturation and brightness until the patient experiences comfortable vision. According to Dr. Quan, when Jacob's preferences were mapped, "His relief was immediate and it was pretty amazing to watch." But how to make this relief an everyday reality for Jacob? The color preferences would need to be incorporated precisely into lenses for a glasses frame, an uncommon capability. Dr. Quan searched and found a company in England that could get the job done with the required accuracy.
Interviewed for an article in the university's View magazine, Jacob says: "These glasses have absolutely changed my life. They've allowed me to work in the office longer hours and more effectively, not having to use so much of my energy on just compensating through the pain. I can be a lot more present as a husband and father." Jacob has moved on to a new job as the assistant city manager in San Juan Capistrano, Calif., and he also works as a motivational speaker. He still feels that at the Eye Care Institute "I have this incredible team in my corner." 
********** 
Many optometrists positively influence lives beyond the walls of their own practices. Naureen M. Haroon, OD, FAAO, an assistant professor at Midwestern University Chicago College of Optometry, has been instrumental in helping a group of people halfway around the world. Last year, while she was visiting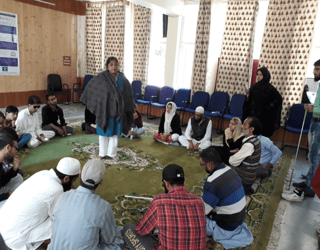 a rural town in the Kashmir valley of India, a peaceful political protest turned deadly when local police and military forces indiscriminately fired pellet guns into the crowd. The incident was one of many during a 2016-2017 period of unrest in the area. Hundreds of people who survived had injuries that resulted in loss of vision in one or both eyes. Dr. Haroon, feeling compelled to help, returned to the United States and began to figure out how. She identified a nonprofit organization that does work in India and submitted a proposal for assistance. The organization accepted the proposal, and Project Noor (Noor means light in Arabic) was born.
Through Project Noor, 21 people who had lost vision in both eyes were identified. (They have what's known as low vision: a decrease in sight caused by injury or disease that isn't correctable with glasses, contact lenses, medication or surgery.) Dr. Haroon went back to India to be part of a workshop that provided low vision devices and care for the group. (Low vision care teaches patients how to use adaptive strategies and devices to make the most of their remaining vision in order to function successfully in daily life.) Patients were supplied with low vision devices and other tools such as talking calculators. They learned how to use features on their cell phones designed to aid in vision impairment by magnifying the screen, reading what's on the screen, etc. "In this rural area, people don't know about low vision care. They basically thought their lives were over because of their vision loss," Dr. Haroon says. Project Noor organized and funded a second workshop as well.
The workshops were important steps toward the patients' ability to lead productive lives despite their vision loss, and Project Noor will continue to help them. A project manager is available to provide ongoing communication with them. In addition, home visits were conducted with each of the 21 patients using a questionnaire created by Dr. Haroon to determine what kinds of struggles they are facing, including behavioral and financial, due to their vision loss. Personalized training programs can then be initiated to help them achieve goals. As Dr. Haroon explains, "Many of the patients are teens so they want to go back to school. Others want to return to work." The hope for the future is to identify more people with low vision (from any cause, not just pellet-gun injuries) and provide assessments, assistance and training for them as well. According to Dr. Haroon, "The long-term support provided through Project Noor sets it apart from many other charitable programs in the region."