Interest in a health professions career such as optometry can spring from a variety of motivations, but a desire to help people is a common inspiration. Sight is such a precious human sense, the care optometrists provide is of immense value to the patients they serve. As shown in the international Barometer of Global Eye Health survey, most people would rather lose a limb or 10 years of their life than lose their vision. The care optometrists provide can be life-changing, and the following stories are just a few examples of how. The stories highlight some of the many different areas in which optometrists can specialize, the expertise available at private practices as well as in the eyecare centers of schools and colleges of optometry, and the dedication optometrists apply to delivering the solutions their patients need.
If you missed Part 1, click here to read it, and read Part 2 below. 
********** 
As a student working toward her Doctor of Optometry degree, Brittney Schieber looked forward to the time when she could start applying everything she had been learning to real-world patient care. In August 2017, during her third year at the University of Missouri-St. Louis College of Optometry, she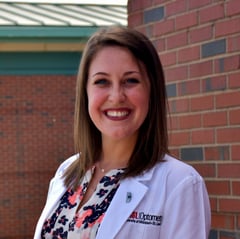 began her rotations through different types of eyecare clinics, seeing patients alongside supervising optometrists. Her very first contact lens case turned out to be, pardon the pun, an eye-opener.
The patient was a 23-year-old male who had been diagnosed with an eye condition called keratoconus in 2011. Keratoconus is characterized by thinning and bulging of the cornea and therefore blurry, distorted vision. It can progress to the point that cornea transplant surgery is required to restore usable vision. This patient had come to the University Eye Center after being told by other doctors that a transplant was likely necessary for him.
Regular soft contact lenses are usually ineffective for patients with keratoconus, but a different type, gas permeable contact lenses (GPs), can enable satisfactory vision, sometimes for years. The patient had tried GPs in 2012, one year after his diagnosis, but they were of no help. They were also uncomfortable because they moved around on his eye. He opted to wear glasses instead, which weren't much better. In the intervening five years or so, even while wearing glasses, he couldn't see well enough to drive or to comfortably read. He also suffered from headaches, possibly because he was always squinting, and simply didn't do many of the things a young man would normally do.
Brittney spoke with the patient to obtain his medical and ocular history and was surprised to hear he was still struggling even though he had just gotten a new pair of glasses two weeks ago. Going through the routine tests of an eye exam, she determined that his vision was correctable. This was curious as well because it meant properly prescribed glasses or properly fit GP contact lenses, or perhaps a third option of scleral contact lenses, should be helpful. Scleral contact lenses are larger than standard GPs, extending to the white part (sclera) of the eye, and tend to be more stable. They're custom fit to the individual eye based on sophisticated imaging and measurements.
Brittney and the supervising optometrist ran the tests necessary to prescribe scleral contact lenses and placed a trial pair in the patient's eyes. Brittney describes what happened next: "As soon as the lenses were in, his eyes got really wide, not squinty, and he started looking around at everything in the room. He scrolled through messages on his cell phone without needing to have it right up to his face. He was looking at his hands, too, and saying how he hadn't seen them so clearly in years. His mom was in the exam room and he told her how clearly he could see the details of her face, which he hadn't noticed in quite a while." With his vision much improved, the patient went back to driving and was thrilled to be able to read and play video games without straining and headaches. With functional vision restored with the scleral lenses, a corneal transplant wouldn't be necessary right now. In addition, it was explained to the patient that if his keratoconus continues to worsen, he may be a candidate for a new non-surgical treatment called corneal crosslinking, approved by the FDA in 2016, which can stabilize or slow progression of the disease.
While it was a great day for this patient, Brittney says it was also quite amazing for her. While she was knowledgeable about keratoconus in a textbook sense, this was the first time she saw for herself the effects it could have on someone's life. Better yet, she says, "I have to admit I actually got goosebumps realizing how frustrated they were when they came in and how apprehensive they were about surgery and how what we did helped so much. It made me feel really good about my decision to become an optometrist." 
********** 
Diabetes can take a toll on the entire body, including the eyes. "Joyce," who has type 1 diabetes, the type that manifests at an early age, knows this all too well. Now 34, she has experienced many diabetes-related ocular complications and undergone multiple types of treatments, all of which have reduced her
vision over the years. It was a more sudden worsening of her eyesight over several months, however, that led her to the William Feinbloom Vision Rehabilitation Center at Salus University. Patients come to the Feinbloom Center to learn how to live with decreased vision and to be prescribed and taught to use devices for what's known as low vision: poor eyesight that is no longer correctable with glasses, contact lenses, medicine or surgery.
Joyce conveyed the problems she was having to Erin Kenny, OD, FAAO, chief of the Feinbloom Center and assistant professor at Salus University Pennsylvania College of Optometry. While she felt comfortable in her own home because every room was so familiar, Joyce avoided going out at night and into new environments because she was having so much trouble seeing. Moving around felt unsafe in those situations. Stairs and curbs posed big dangers. She frequently bumped into things. Even her ability to do the crucial task of reading her insulin pump could no longer be taken for granted. Joyce was forced to drop out of graduate school, just two semesters short of earning her degree. Her biggest concern was how her vision made it difficult to care for her 1-year-old daughter. Reading food labels was impossible, and spotting the little girl as she crawled around the house was problematic. She worried what the future would bring.
With Dr. Kenny and the rest of the rehabilitation team, Joyce was in good hands. Dr. Kenny prescribed several low vision devices designed to make Joyce's remaining vision more functional. For example, telescope-like devices, both handheld and mounted on a glasses frame, enable her to see far away, and different types of magnifiers allow her to read labels and her class materials. She did, by the way, return to school. With orientation and mobility training, Joyce also learned techniques for getting around safely and confidently. And she was able to take advantage of aids around the house such as special stickers to make the numbers and buttons on the stove identifiable by touch. She was happy to be referred to a state agency that could assist her in an employment search when she was ready.
Joyce moved to another state a few years ago, but she sticks in Dr. Kenny's mind. One of the things she likes about providing low vision care is the relationships that are formed with patients. They're seen at multiple visits over time as they tackle new goals along the way. "Joyce was very motivated. She worked hard and did very well," Dr. Kenny says. "She was also very appreciative of what we were able to do for her." The appreciation goes both ways. "I love my job," Dr. Kenny says. "I love coming to work. Joyce is an example of what we're able to do as optometrists. How we can change somebody's life for the better by helping them to live more independently." 
********** 
Babies aren't born with fully developed vision. Their eyes and eyesight, working very closely with the brain, continue to mature for several years. This being the case, infants and toddlers are particularly sensitive to a number of eye conditions that can potentially emerge and interfere with this process. If not properly addressed by an eyecare professional, such conditions can negatively affect not only the child's vision, into adulthood, but also his or her overall development.
It's usually not a concern if shortly after birth a baby's eyes occasionally seem to not be working together. For example, one eye may sometimes point more inward or outward. However, when little Finn was about 18 months old, his mom noticed something more than that. She noticed that both of his eyes were tending to drift outward frequently. Wisely, she brought him to see pediatric vision specialists Elizabeth Knighton, OD, FAAO, and Nathan Bonilla-Warford, OD, FAAO, FCOVD, who have two offices in Florida, one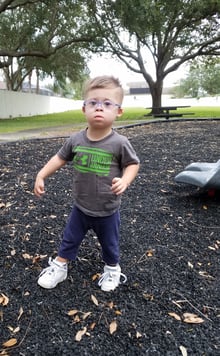 dedicated to family vision care and one just for kids. With a thorough initial exam, Dr. Knighton ("Dr. Beth" to her patients) determined that Finn had exotropia ― an outward drifting of the eyes. She also found that he had significant hyperopia (farsightedness) as well as astigmatism. All three cause blurry vision, a definite threat to proper vision development.
The solution Finn needed was a pair of glasses. His glasses are designed to provide the clearest vision to each of his eyes so that his brain finds it easier to keep them aligned and provide good depth perception. Finn needs to wear his glasses as much as possible, and will likely need glasses or contact lenses for the rest of his life, but his prognosis is excellent. Dr. Bonilla-Warford describes the little guy's progress: "He has gotten much more visually responsive. His spatial awareness is better, and because he can see the world around him better, he is more active. Because he can see his mother and others better, he is more interactive and expressive."
Finn's mom has been excited about how far he's come. She shares in an online video how giving Finn glasses "gave him … a whole new him!" It goes to show, says Dr. Bonilla-Warford, "just how much a single pair of glasses can benefit a person."    
********** 
The new glasses recently prescribed for "André" don't provide X-ray vision or shoot laser beams ― that's the stuff of James Bond movies and comic books, for now anyway ― but they're pretty special nonetheless. The glasses lenses are called prism lenses, and they solved André's double vision problem.
A patient at the New England College of Optometry (NECO) Center for Eye Care – Roslindale, André had been experiencing bouts of double vision for about four years. After reading or using the computer for 5 or 10 minutes, whatever he was looking at would split into two images. The situation was annoying but didn't
happen very often, so he hadn't wanted to take any steps to fix it. That changed when it started happening more frequently. It reached a point where it was adversely affecting his work as a quantitative analyst, which relies heavily on close-up work like reading and online research, which was precisely when his issues occurred. He was making errors and his performance reviews at his Boston financial firm were slipping. The 44-year-old decided it was time to seek a solution.
During André's visit to the NECO clinic, Jennifer Williams, OD, MS, clinical assistant professor of optometry and attending optometrist, performed the tests necessary to determine the cause of the double vision. Double vision (technical name: diplopia) can be a diagnostic challenge because there are many potential causes, such as corneal irregularities or cranial nerve palsies, to be confirmed or ruled out. Proper treatment, which in some cases may be surgery, hinges on knowing the specific cause. The fact that André's problem didn't come on suddenly eliminated some of the potential causes that would have constituted an emergency. Dr. Williams was able to determine that esotropia, an inward eye turn, was the culprit. An eye muscle problem, esotropia prevents the eyes from working together properly, hence the double vision. It can become harder to control as time goes on, which is what was happening for André.
Prism eyeglass lenses were the logical treatment option to try first. They're based on optical science, i.e., how the prism shape added to a lens bends light. The effect is to "move" the image in a patient's view to the spot where the brain thinks the eyes are working together. But fitting them is also somewhat of an art. "It's challenging to find just the right amount, the right power, of prism to incorporate into the lenses," Dr. Williams explains. "It's all about what is comfortable for the patient, and you rarely end up prescribing the amount your tests have measured."
André and Dr. Williams worked through the prescribing process, prism was added to the glasses prescription he was already wearing, and the result was a slam dunk. No more double vision. The prescription will likely have to be adjusted from time to time to keep the problem at bay, but for now, André is happily back to crunching the numbers, one set at a time rather than two. 
********** 
As a Los Angeles-area optometrist who works in a private practice and serves as an adjunct faculty member with the Southern California College of Optometry at Marshall B. Ketchum University, Brett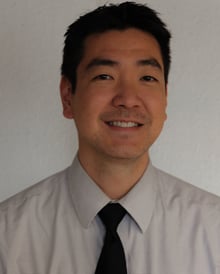 Nagatani, OD, treats all types of patients. He finds that providing care for those with low vision ― poor eyesight due to ocular disease or injury that can't be corrected with glasses, contact lenses, medicine or surgery ― can be especially rewarding. "Many people feel that without perfect vision they can't do anything," he says. "However, in reality, they can still work, travel, date, use the computer, and do most things sighted people do. Low vision optometrists and the devices they prescribe open up that world of possibilities."
By the time Dr. Nagatani met Mr. Garcia at the University Eye Center, it had been 19 years since Mr. Garcia suffered a traumatic head injury from falling off a bike. The injury permanently damaged his optic nerve, making him legally blind. Despite having to give up his construction job as well as the sports and marathons he had loved so much, he had been getting along OK. The more time that passed, however, the more he realized there were quite a few things that used to be simple that now he really missed. He became increasingly frustrated with not being able to comfortably read small print, walk around in unfamiliar areas (especially at night), use the computer, or watch television. Finally, he decided to seek help and called the University Eye Center to schedule a low vision evaluation.
Dr. Nagatani and the low vision team demonstrated for Mr. Garcia various devices, such as telescopes and magnifiers with LED lights, that could make his distance and near vision more functional. He was able to find several that addressed his needs and fit his lifestyle. He was particularly excited about an electronic video magnifier that enlarges reading material up to 100 times yet still enables the user to move through the lines and pages efficiently. In addition, the team referred Mr. Garcia to the California Department of Rehabilitation, which could connect him with other services related to independent living and potentially help with job placement. According to Dr. Nagatani, Mr. Garcia's time with the low vision team gave him new motivation, and he was "looking forward to all of the possibilities his low vision devices would provide."