Company Name: Bausch + Lomb
Company Description: Bausch + Lomb, a Valeant Pharmaceuticals International, Inc. company, is a leading global eye health organization that is solely focused on protecting, enhancing, and restoring
people's eyesight. Its core businesses include ophthalmic pharmaceuticals, contact lenses, lens care products, ophthalmic surgical devices and instruments. The company develops, manufactures and markets one of the most comprehensive product portfolios in the industry with products available in more than 100 countries. 
Author: Dr. Jill Saxon is the Senior Director of Professional Strategy at Bausch + Lomb and is part of the leadership team for U.S. Vision Care. Prior to joining Bausch + Lomb, Dr. Saxon worked as an optometrist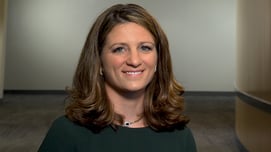 for more than five years at Randolph Eyecare Center in Randolph, N.J., where she provided both adult and pediatric eye care. Earlier in her career, Dr. Saxon served as an optometrist at the National Naval Medical Center (NNMC) in Bethesda, M.D., as a Lieutenant in the United States Navy.
I'm often asked by students for advice as they begin their career. My answer is simple and consistent—never lose sight of why you chose to be an Optometrist. 
I remember, early on in my career, I was taking care of a patient who had just returned from the war in Iraq. He was only 20 years old and had recently lost all his limbs following an IED explosion. Despite needing visual correction, with the physical limitations he was experiencing, he craved the freedom of not needing to continually ensure spectacles remained on. My desire was to give this young soldier, who gave us all so much through his sacrifice, the gift of sight.  
A simple gesture, I fitted him with contact lenses. I also worked with his wife to teach her how to insert and remove his lenses for him, knowing he was unable to do so. He shared with me how wearing contact lenses completely changed his life. Through their use, and the independence they provided him, he shared that he was able to find strength and confidence. Most importantly, he was proud to be able to see his wife deliver their first child. 
As optometrists, we don't just help people see better; we can play a crucial role in their overall well-being. By providing outstanding patient care and offering them the latest innovations in eye health, we can help improve their vision. 
We also have the rare opportunity in today's world, dominated by digital devices, to still be able to build personal relationships with our patients and use this to educate them on vision care options they may not think of—or even think they need! 
In recent years, the competitive landscape of our industry has changed significantly; the emergence of new channels has led to the increasing importance of health practitioners becoming educators and the need for advancements in vision care that address more patient needs than ever before. It is important for students to recognize the shifting paradigms in this field and identify some of the trends that will impact tomorrow's practices.
Today's patients are online, informed, and influencing tomorrow's referrals 
In the 21st century, the internet and social media are playing an increasingly influential role in patient behavior. Online health resources are becoming virtual office experiences for patients and presenting a new type of competition for the private practitioner. Years ago, word-of-mouth referrals and physician finder websites were useful tools for patients to identify local eye care practices. Today's patients are walking into doctors' offices more informed than ever before, having conducted thorough research online that includes reading user reviews. 
With the rise of popular search engines, crowd-sourced business review sites and mobile-apps, practices are competing with "Dr. Internet". Not only can a single online review influence public opinion and referrals, but patients are also less likely to make in-office purchases due to the availability of competitive pricing online. While they may still walk into "brick and mortar" practices to receive eye exams and even shop around for eyeglass frames and contact lenses, patients are increasingly making their final purchasing decisions online. 
Optometrists must stand out in the hearts and minds of patients by fostering personal connections. As informative as the internet may be, it cannot replace the critical, two-way conversations between the patient and doctor. 
The Patient's Experience – what they're telling us, and what they aren't 
Cut through today's digital dominance and distinguish your expertise through meaningful conversations with patients to help improve their outcomes. The doctor-patient relationship is an invaluable and irreplaceable experience that no amount of technology can compete with. Forging relationships based on honesty and open communication can continue to grow and build trust over time. 
For example, did you know that 35% of soft contact lens wearers experience blurry vision? And two-thirds of them aren't telling their eye care providers about the problems they are having? Worse still, many of these patients are likely to blame themselves for their blurry vision rather than the contact lenses they are wearing, which may be the wrong option for them. 
Let's talk to our patients about options specifically designed for their needs.                                                 
Innovative options you may not be considering 
We have an incredible opportunity to educate—and engage—our patients in conversations focused on identifying the best long-term solutions for them, providing innovative technologies that are designed to meet their needs today and tomorrow. 
There are also a variety of reasons why patients may not be wearing contact lenses. In fact, current data indicates that the majority of patients with astigmatism and presbyopia are currently corrected with only with spectacles1. 
In recent years, innovations in contact lens technology offer patients both clear vision and all-day comfort, addressing traditional perceived barriers to wearing contact lenses. These innovations open up new opportunities for patients and eye care professionals alike. 
However, despite innovation in contact lenses, only 25% of eyeglass only wearers said their eye care professional presented contact lenses as an option during their last eye exam2. As providers, we need to expand the conversation with patients and talk about the benefits these innovative technologies can provide them. 
Today's contact lens options no longer carry some of the traditional limitations of preceding lens generations. Contact lenses have become accessible options to more patients than ever before. But are we talking to our patients about all the options available to them? 
Here's something to think about: 
– There are more than 73 million vision-corrected astigmatic patients in the U.S., yet only 24 million wear contact lenses1. 
– About 70% of eyeglass-only wearing astigmatic patients believe it is their astigmatism that is the barrier to wearing contact lenses1. 
Furthermore, patients in need of multifocals may not consider contact lenses as an option for vision correction. But maybe that is simply because the possibility has yet to be offered to them. 
We have the opportunity to inform these patients that not only may contact lenses be suitable for them, but with the innovations in lens designs, materials and expanded parameter ranges3, lenses can provide the comfort they want as well as the performance they need.  
Above all else, always remember why you chose to become an Optometrist, and the opportunity you have to make an impact on every patient you treat. You can be an exceptional eye care professional by offering support, education and heartfelt counsel. The decisions we make in our practices can alleviate patients' concerns and make them more comfortable beyond the simple act of fitting them with contact lenses. By embracing and delivering the latest innovations to meet evolving patient needs and forging a closer doctor-patient relationship, we can truly impact the lives of those we care for. After all, the commitment to the happiness and well-being of others is at the heart of why we do what we do. Don't ever lose sight of that.
References
1. The 2016 Multi-sponsor Surveys, Inc. Target Report on the Market for Toric Contact Lenses.
2. The 2017 Multi-sponsor Surveys, Inc. Study of the U.S. Consumer Contact Lens Market.
2. CONTACT LENSES 2017. Continuing upward trends in daily disposable prescribing and other key segments maintained a healthy industry. Contact Lens Spectrum. https://www.clspectrum.com/issues/2018/january-2018/contact-lenses-2017
­­
NPR.0187.USA.18